New riders have a lot to take in, and one of the most complex (and divisive) topics is helmets. Spend a few minutes diving into new rider helmet recommendation forums, subreddits, and blog posts, and you'll see what I mean.
When talking helmets anywhere, Snell inevitably comes up. Opinions from riders vary, but there is always a recurring question. Does it matter if your helmet is Snell certified?
The New-Rider Primer on Snell
If you're just now digging into gear and are wondering what the heck "Snell" is all about, then this is for you.
There are three major helmet safety standards: DOT (FMVSS 218), ECE 22.05, and Snell M2015.
In the United States, a helmet must at least meet the DOT standard. In Europe, DOT is replaced by ECE (which is a similar standard, though not directly equivalent).
The DOT and ECE standards are set by the United States Department of Transportation and the Economic Commission for Europe, respectively.
Snell is a non-profit, independent testing organization that was formed in 1957. They do not have any direct affiliation with any government body.
While DOT/ECE standards are required in their respective regions, Snell certification is voluntary and opt-in (meaning, a manufacturer has to pay to have their helmet assessed and certified).
The Snell M2015 standard is generally considered to be more strict and protective than current DOT and ECE standards.
To Snell or Not to Snell
After a recent visit to the Snell International Headquarters, I thought now was a pretty good time to weigh in on the subject.
After spending several hours conducting helmet tests, talking with the foundation leadership team, and observing the testing technicians, I'm quite confident in the process and intention behind the Snell standard. They certainly aren't nice to the helmets that they test.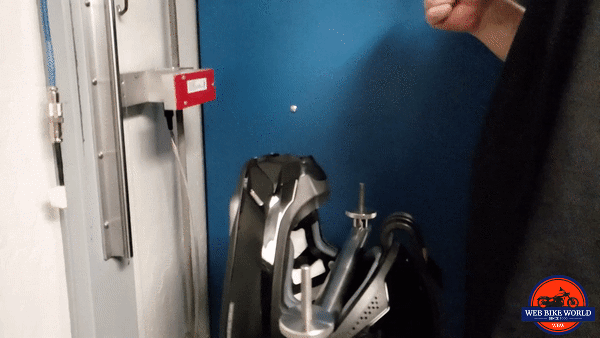 When Jim and I first entered Snell's testing lab, the first thing Laboratory Manager Stephen Johnson said was "we want to fail your helmet." I imagine they're thinking that as they're smashing, dropping, shooting at, and setting helmets on fire.
It's a tough job, right?
Let's Compare Standards for a Second
What you should not do after reading this article is walk away thinking that DOT/ECE standards are unsafe, and that only Snell certification matters.
The reality is a bit more complicated and nuanced than that.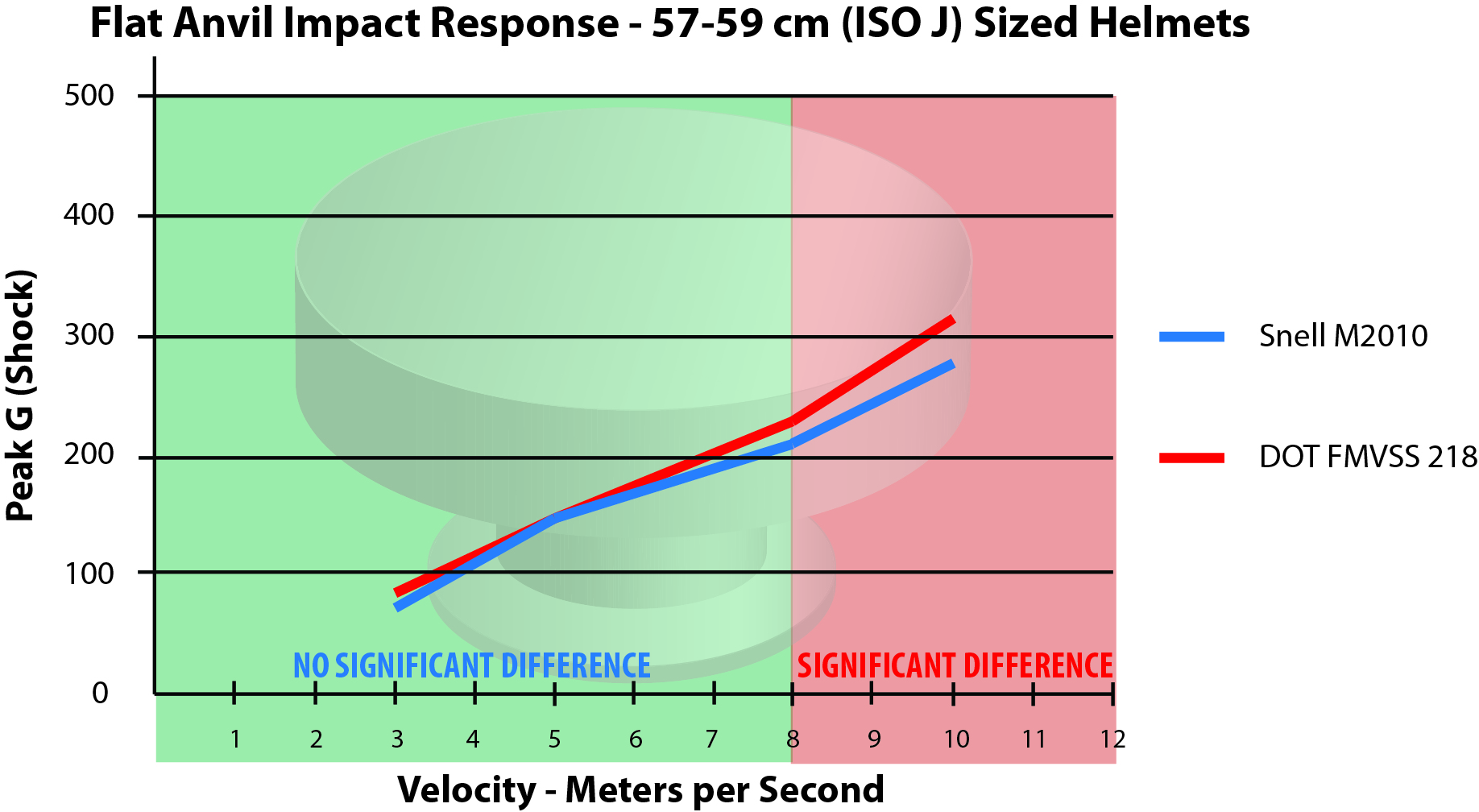 In the above graph, you can see that DOT and Snell impact response on a flat surface is virtually identical until velocity climbs beyond 8 m/s. In many cases, a DOT helmet is effectively as safe as a Snell helmet.
Where Snell-certified helmets start to shine is in extreme use cases, such as high-speed crashes, head-on collisions, etc.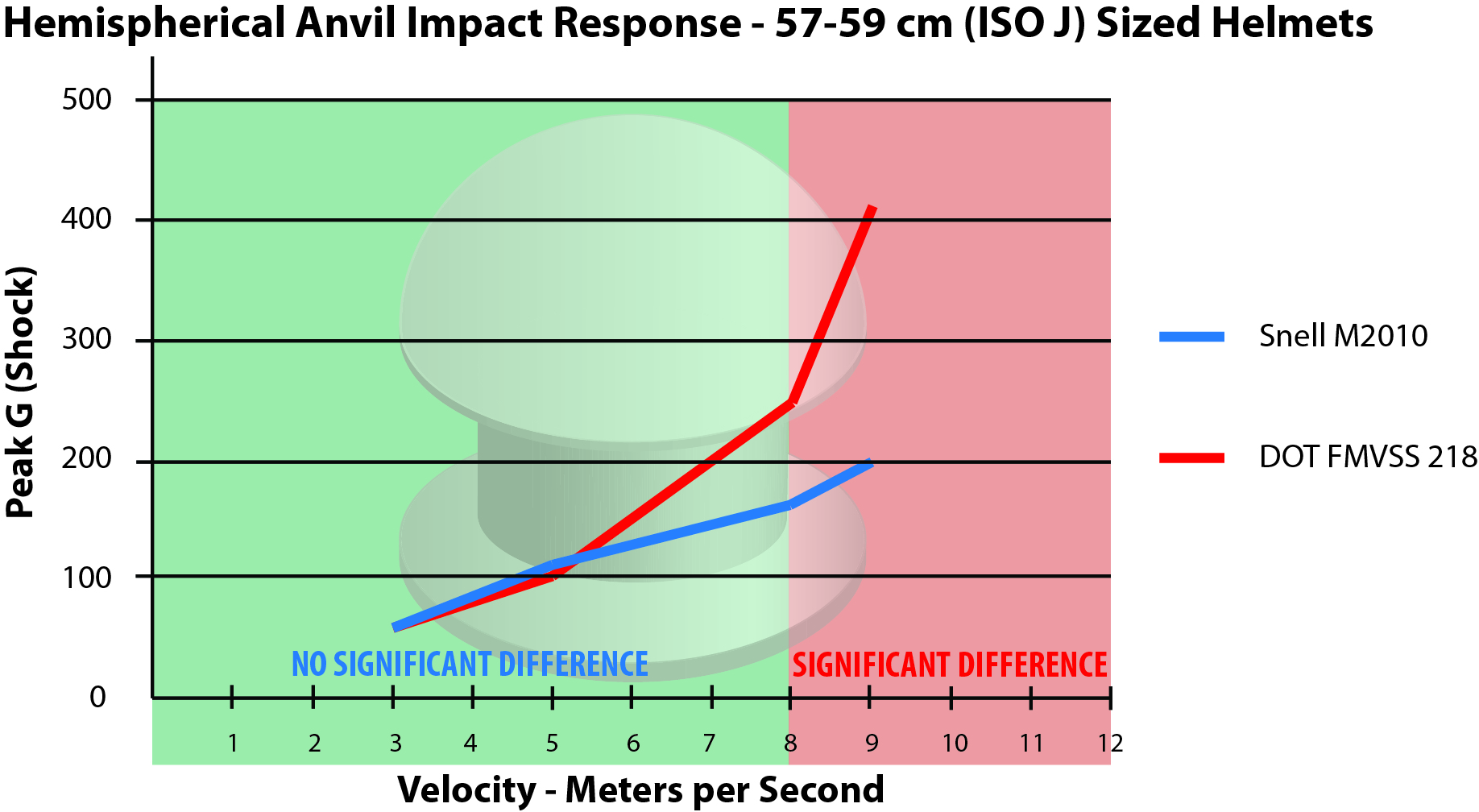 The disparity between Snell-certified and DOT helmets really widens when the impact surface is rounded. But, like the flat test, performance at lower speeds is quite close.
The thing about "extreme use cases" is that they are not necessarily uncommon. Getting smacked by a car or a wall is going to involve a lot of forces, and you want your helmet to direct as much of those forces as possible away from your head.
Snell Doesn't Come Without Drawbacks
Where Snell-certified helmets come up short compared to many of their DOT/ECE peers is convenience and included functionality.
Today, it is not hard to find a helmet with a built-in sun visor or communications system. In fact, helmets like the SENA Momentum demonstrate that the future is going to be helmets with more technology, not less.
That's a good thing, right? The challenge is that many of these conveniences stand in the way of Snell certification, as these features can compromise the helmets ability to pass some of Snell's tests.
This doesn't necessarily mean that the helmets are unsafe, as they meet DOT standards. But thinner liner at the crown of the helmet to accommodate an internal sun visor, for example, is likely to fail Snell's impact test (where the helmet is dropped from a height of about 12 feet. Twice.).
So What Kind of Helmet Should You Wear?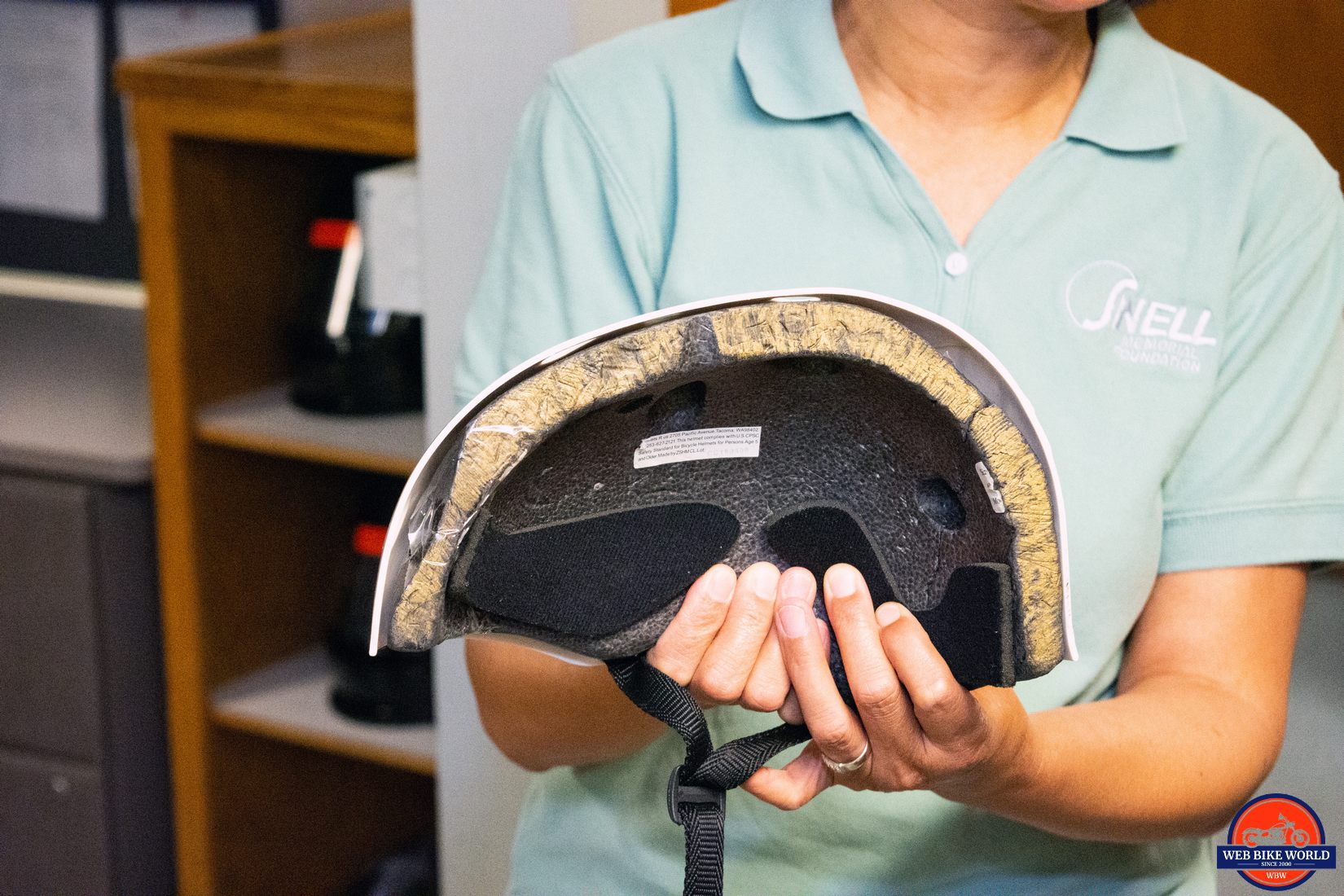 I asked that question to Hong Zhang, Snell's Senior Program Director and "the face of Snell". Her answer echoes advice you've probably already heard:
"Get a helmet that is at least DOT/ECE certified and that is comfortable to wear for long periods of time. Make sure it fits properly and has no pressure spots. We recommend a full-face or modular helmet that meets modern helmet safety standards."
When new riders ask me what helmet to buy, I always emphasize three main points: safety, comfort, and value. I'll touch on all three below, but if you want to go really deep, I last year I wrote a motorcycle helmet buying guide that you should check out.
Priority #1: Safety
I recommend that a rider look for DOT FMVSS 218 or SNELL M2010/M2015 certification (or both DOT and SNELL).
Avoid gimmicky designs that have things attached to the helmet, as they may snag or cause complications in a crash.
Never compromise when it comes to protecting your head and face. Avoid no-name brands or brands only found on eCommerce sites.
Consider a helmet that has incorporated reflectors or high-visibility areas.
A full-face helmet is going to offer the most amount of protection. If you don't want full-face, consider a modular helmet as a great alternative. Modular helmets are safer than helmets with open faces while still providing open-face convenience when needed.
Never drill into, hammer, or otherwise cut/damage your helmet. This compromises its ability to keep you safe.
Priority #2: Comfort
Determine your head shape – As Jim is quick to point out, wearing a helmet that isn't the right shape is downright uncomfortable.
Go in-store to try on helmets before you buy – Don't buy on your first visit, but instead try on a variety of helmets at various price points.
When trying on helmets, wear them for 5-10 minutes at a time. Move your head left/right, up/down, etc. to get a feel for how the helmet will sit in various positions, and more importantly, how it transfers weight.
Try helmets with micromech buckles as well as d-rings. Get whichever is most comfortable.
I recommend you only look at helmets that have at least two vents (chin + crown vent). Airflow can make a big difference on those hot summer rides.
Priority #3: Value
I do not recommend spending big money on your first helmet. Look for something in the $150 – $300 range, as you can find great helmets in that price segment that offer a lot for not a lot.
Consider your needs:

What does this helmet need to do in order for you to enjoy it for 3-5 years?
Where are you going to ride the most?
Would you enjoy having a built-in sun visor?
Do you intend to add a Bluetooth intercom to your helmet? If so, are you comfortable spending $150 – $200 for a helmet brand's in-house unit? If so, consider a helmet with built-in pockets for speakers and intercom units.

Warranty – Most reputable brands offer 5-year warranties, though not all do (some offer 3-year warranties).
Consider These SNELL-Certified Helmets
There are a lot of good helmets out there. If you're looking for a good place to start, consider these helmets below. I've chosen inexpensive SNELL-certified full-face helmets that are a good value.
Disclosure: the below links are affiliate links. If you purchase one of our recommended helmets, we may receive a small commission (note: this doesn't change the price you pay). This is how we find our website and pay our writers.
I have ridden in the EXO-R710 at least a dozen times now, and were I not constantly testing helmets during Calgary's short "riding season", this is the helmet I'd be wearing every day. I recommend it because of its blend of affordability, safety, and comfort. It's a lightweight helmet with plenty of airflow from its large vents.
It's one of my favorites.
Scorpion EXO-R420
Price: $149
Certified: DOT & SNELL M2015
Why? The EXO-R710's more affordable little brother.
Like the R710, the Scorpion EXO-R420 is another lightweight and affordable Snell-certified full-face helmet. It doesn't move quite as much air as the R710, but it is still a comfortable helmet to wear. A great value.
Buy The Scorpion EXO-R420
We receive a small commission when you purchase from one of our affiliate partners. Thank you for supporting us.
Well-suited for round/round-oval head shapes.
The CL-17 is Snell M2010 certified, and while it is now getting dated compared to some of its peers, it is still a solid and comfortable lid. It is also often found for under $140, making it perhaps the best blend of safety and affordability.
Buy The HJC CL-17
We receive a small commission when you purchase from one of our affiliate partners. Thank you for supporting us.