By far the most popular motorcycle sector, the sportbike range is filled with bikes of all shapes, sizes, and styles. In the most broad sense of the category, you have naked bikes, semi-fairing streetfighters, and fully faired sportbikes.
However, getting onto the wrong sportbike as your first bike can quickly lead to a destroyed bike and a medical bill longer than you are tall. A lot of sportbikes can bite your head off, give it a solid chew, and then spit it out because it tastes bad. You want to keep your head unbitten and unchewed.
For that reason, we've narrowed down eight great starter sportbikes that will look after you while you learn proper riding. These are all bikes that you can still have a ton of fun on, and as you gain experience will learn to appreciate the finer things they offer, but will also let you learn.
2020 BMW G310 R
The 2020 BMW G310 R is a naked bike that is a wolf in sheep's clothing. It is not meant to win out in a top speed competition, especially with a 313cc single that produces 34 HP and 21 lbs-ft of torque. The way that the G310 R is a sportbike for new riders is in its confidence.
The bike is very agile, yet planted. It is designed specifically for city riding, and as such doesn't push hard to be the fastest and greatest. It aims to get you to work and back, to have some fun in the twisties on the weekend, and let you find 9/10's of its capabilities without having to worry about suddenly hitting the limit.
2020 Yamaha MT-03
If the BMW above is the friendly bike, then the 2020 Yamaha MT-03 is the one that wants to give it a wedgie. It's a mischievous bike, with a 321cc parallel twin that produces 50 HP, that likes to get tossed about some curves, and then calms down to be a sensible bike.
The fact that this bike, while being rowdy, is still easy enough to ride as a beginner is one of its major selling points. It won't snap out its back wheel readily, and when braking before a corner, the front seems to hunch a tiny bit and then settle, giving you great road feel through the handlebars. And if you brake too hard, ABS is standard, so you won't go flying over the handlebars.
All of this is confidence inspiring, and that's why this bike makes the list.
2020 Yamaha YZF-R3
If visceral, raw sport bike experiences are what you are after, the 2020 Yamaha YZF-R3 is the bike for you. It is a tiny beast, with a 321cc inline twin that produces 50 HP, and high up in the rev range at that. It is a beginner bike if you are careful with it and approach it cautiously and with respect for what your right wrist is in control of.
However, if you do give it the respect it deserves, it will teach you the ins and outs of the dynamics of motorcycling. Nothing matches it in cornering feel, as it is set up as a supersport track bike for the streets. You will feel the road through one of the most communicative frames ever made, so it might overwhelm you with information at first. Again, ease into it, let it talk to you, and you will learn from the best.
2020 Suzuki SV650
You can never escape the classics. The 2020 Suzuki SV650 is still the same jack of all trades, master of none, down to Earth yet still ready to rip up some corners bike that made it a popular choice for new riders when it was first introduced.
It sounds scary when you state that it has 75 HP and 47 lbs-ft of torque. But what earns this bike the moniker of "the all time best beginner sportbike" is that it is just so damned friendly on the throttle, and generous on the brakes. Power is linear and predictable. The frame is stiff but supple, and reacts instantly to inputs. And its short wheelbase, compared to some bikes on this list, lets you learn how a bike should handle.
2020 Suzuki GSX250R
The 2020 Suzuki GSX250R is the first of two sportbikes that can lead to supersports that we recommend. Generally for those under 6 feet tall and under 180 pounds, the motorcycle will get you moving at a fair rate with its 248cc parallel twin that produces 25 HP and 17 lbs-ft of torque.
However, where the bike shines in the corners. Using lessons learned through the evolution of the GSX-R lineup, the GSX250R is at home on the street as much as it is at home on the track. It likes to claw into the ground and haul itself around, and that planted, confident feel is exactly what a new rider needs.
It also has a neutral or even slightly sporty riding position, and allows for all day cruising or all weekend track riding.
2020 Kawasaki Ninja 650
The 2020 Kawasaki Ninja 650 is the second of two sportbikes that can lead to supersports that we recommend. This bike we generally recommend as a good start sportbike for the big and tall crowd. 6 feet and over, 200+ pounds, and this bike will be your best friend.
The reason that it is so popular with the big and tall crowd is that it has linear power delivery and a comfortable standard seating position, despite it having 67 HP and 49 lbs-ft of torque from a 649cc parallel twin. However, it is light enough and agile enough that the added weight of the rider doesn't deter it from wanting to have a little play in the corners now and again
Also, in most riding scenarios, it is planted and gives great feedback, something a new rider needs to learn how to handle a bike properly.
2020 Kawasaki Z400
The 2020 Z400 is what Kawasaki themselves refers to as a junior streetfighter. It's poised, hunched up, ready to go, but once you swing a leg over it and actually get going, it's a civilized and immensely confident ride. It's powerful, but not overly so, with 49 HP and 28 lbs-ft of torque, and it has a light clutch and really positive gearbox.
It's more the agility and the confidence the bike has that inspires new riders. It is a superb commuter bike, and when you want to play, it is extremely forgiving. It also places you as close as possible to the center of gravity, so you get a feel of the bike moving around you. As well, if you do goose it a little too much in the corners, the rear wheel won't immediately snap out of line and flip you off the bike, but it might give a small chirp of annoyance.
2020 Honda CB300R
If the Z400 above is a bit too in your face, the 2020 Honda CB300R is a much more relaxed bike. It's still a naked sportbike, and it still will get you going decently quickly, but it is less rowdy with a 286cc single that puts out 31 HP and 20 lbs-ft of torque.
Much like the Z400, however, it is a lightweight corner carver that is also happy doing the daily commute. It has very confident brakes, a great seating position, slightly forward mid-mount pegs, and handling to that is boiled down from Honda's racing successes. It also has a slightly more retro look than the Z400, making it the "civilized" choice if you don't want to jump up and down and wave your arms for attention.
2020 Honda CBR500R
Honda's counter to the Suzuki SV650 is the 2020 CBR500R. It is a sportbike that is also a jack of all trades, master of none. Unlike the SV650, however, it has a 471cc parallel twin with 50 HP and 32 lbs-ft of torque, making it less intimidating on the right wrist.
It also fits almost all riders equally. Big and tall riders will probably find it slightly underpowered, while short and light riders will probably feel like they're on a detuned supersport. The best part about the bike is that it fills in that key missing sector in riders, the "in between" of the 600cc or greater for the heavier starter, and the 400cc or lesser for the lighter starter.
2020 KTM RC390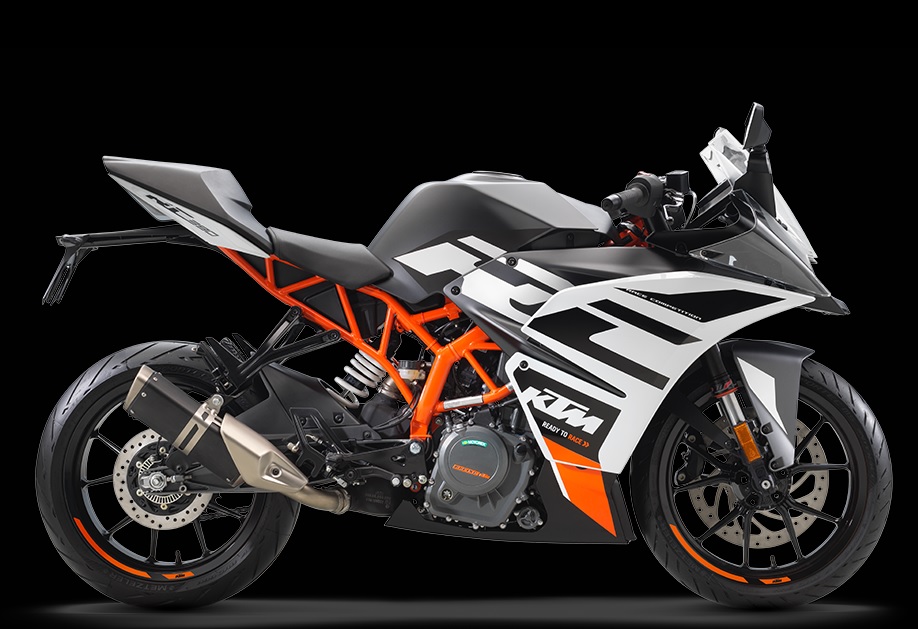 We are wary of recommending the 2020 KTM RC390 as a beginner street bike, because that is not exactly what it was built for. This bike is through and through a track bike with a license plate holder and mirrors. But it is one of the best beginner track bikes.
Powered by a whacking great 373cc single that pumps out 40 HP and redlines hard at 11,000 RPM, the RC390 is a corner hungry monster. Feed it some, and you'll feel why the seat is rated as one of the hardest in the industry, as you're not meant to sit on it much as you scrub a little of your knee slider off as you clip the apex.
The only real competition it has in the handling department is the YZF-R3 from Yamaha, but the RC390 will give you more of a raw track experience. The R3 will give you a good street experience on your ride to the track before munching some corners for lunch on said track.